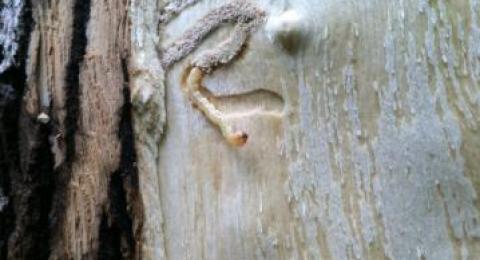 Invasive insects and diseases can have devastating impacts on the managed and natural environments into which they are introduced. These introduced pests can have serious negative impacts on agriculture and forestry. Some invasive pests of concern in New Hampshire right now include emerald ash borer, hemlock woolly adelgid, and asian longhorned beetle (not yet in NH, but nearby).
Through a partnership with UNH Cooperative Extension, New Hampshire Department of Agriculture, Markets & Food, New Hampshire Forests &  Lands, APHIS and the U.S. Forest Service, NHBugs.org is a website dedicated to educating municipalities and citizens about insect threats to trees and forests. On NHBugs.org, you can learn about a number of pests and diseases impacting New Hampshire's forests and trees. You can sign up to receive bug updates, which are sent periodically, and order handouts to provide at community events.
You can also report any suspected invasive insects through an online reporting form. You are encouraged to upload up to 3 pictures. Pictures make a huge difference in helping to identify the insect or cause of damage. Try to get pictures that best represent what you see—if you think you have an emerald ash borer infestation, for instance, take pictures of any noticeable tree damage. Get pictures at different ranges--close up and further away. If you have found a suspicious insect, get a clear shot of its identifying characteristics.
More Information