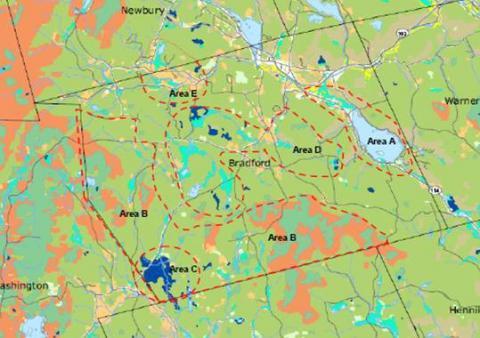 Communities and conservation groups can prioritize areas for habitat protection using the NH Wildlife Action Plan maps. For each community in the state, two wildlife maps are available. The Wildlife Habitats Land Cover Map shows the critical wildlife habitat types identified in the NH Wildlife Action Plan. The Highest Ranked Wildlife Habitats By Ecological Condition shows the highest ranked habitats in the state (pink), in the region (green) and the supporting landscapes (orange) that occur in a town or region.  
Once you have identified habitats using the Habitat Land Cover map for your community, decide which of these areas are priorities for protection and mark them on a copy of the map (see the sample map at right). These could be locally important small scale habitats (such as peatlands, grasslands, marsh & shrub wetlands), habitats that are uncommon in your area, or unfragmented forest blocks significant for their size and lack of development, undeveloped shorelines, etc.  Describe the significance of these areas in your Natural Resources Inventory.  Use the Highest Ranked Habitats Map for your community to refine or add to habitat priorities, e.g. large unfragmented blocks of habitat.
Incorporate the habitats map for your town with the priority areas marked on it into your Conservation Plan, the next step after your Natural Resources Inventory. Take a look at existing conservation lands shown on the maps and identify areas where conservation lands could be expanded and/or linked in order to protect these priority areas. These targets should be identified in the Conservation Plan.
More Information