NH Wildlife Action Plan Maps Updated in 2020
---
June 2020 marks the 4th update of the NH Wildlife Action Plan maps! NH Fish and Game and its partners in the conservation community have worked to keep the maps updated every five years with new and updated data. The maps are likely the most visible part of the NH Wildlife Action Plan. Associated with those maps is a wealth of data and information about wildlife habitats, Species of Greatest Conservation Need, and actions you can take. Many of you are using the Wildlife Action Plan maps in your natural resources planning and conservation work. With each update, the maps keep getting better! Read on to see what has changed in 2020. More detailed information about the updated 2020 NH Wildlife Action Plan Maps is available on the NH Fish and Game web site. 
HABITAT LAND COVER MAP
The 2015 Habitats data was combined with three new/updated data layers for 2020: Sand/Gravel (NHFG, 2017), NH 2016 CCAP 10 meter landcover statewide (NOAA Coastal Change Analysis Program), Regional Land Cover Database (released in 2019), and National Wetlands Inventory (NWI) data (USFWS, 2020)
Wildlife Action Plan Habitat classes are still based on The Nature Conservancy's Northeast Terrestrial Habitat data, as they were in 2015, and then modified as follows:
Developed: if the new C-CAP land cover class was "Developed", then the new Habitats Map class became "Developed Impervious", or "Developed or Barren".
Sand/Gravel: If the new C-CAP land cover class was "Bare Land" and the area was mapped as Sand/Gravel data, then the data on the Habitats Land Cover map was reclassified to "Sand/Gravel" habitat.
Wetlands: Wetland habitats were updated using the 2020 NWI data (available primarily in the Coastal and Merrimack Watersheds, but also in some smaller project areas across the state).
Grassland: Grassland habitat was updated to reflect any changes in habitat type based on data from the C-CAP High Resolution data layer (e.g. if grassland changed to trees/shrubs, or developed land, it is no longer shown as grassland).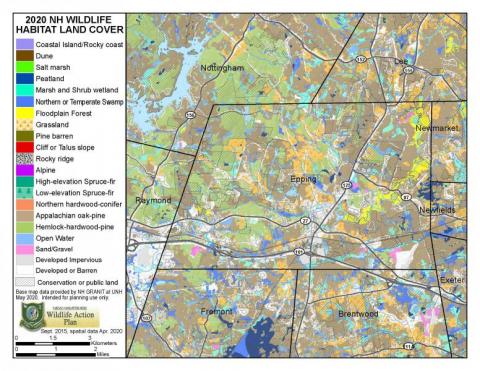 HIGHEST RANKED HABITAT BY ECOLOGICAL CONDITION MAP
As with the previous maps, Habitat Condition was analyzed to develop statewide and regional rankings that identify the highest condition habitat, relative to a given habitat type, in the state. The method for identifying habitat condition remains the same as for 2015, but now includes new species occurrence data and updated Habitats Land Cover data (see above):
Species occurrence records for the last 5 years were added.
The Nature Conservancy's Resilient and Connected Network (February 2020) data was used to elevate areas to Tier 3 "Supporting Landscape" (in place of the 2015 forest blocks).  
A filtering process was run to remove small (< 1 acre) isolated areas of ranked habitat that were separated from contiguous habitat blocks due roads or development.
Refer to the document Habitat Condition Analysis 2020 for more detail.
VIEW THE UPDATED WILDLIFE ACTION PLAN MAPS AND LIST OF SPECIES BY HABITAT FOR YOUR COMMUNITY
Access the NH Wildlife Action Plan online for more information. This is a pro-active effort to define and implement strategies for New Hampshire that will help keep species off rare species lists and keep common species common.